This roasted tomato & thyme burrata crostini recipe is all you need the next time you are need an appetizer. When I hosted Friendsgiving at my house last month one of my best friends Janine brought this amazing appetizer, roasted tomato & thyme burrata crostini. We practically fought over the last one, it was embarrassing.  She was kind enough to let me share her recipe here, just in time for Christmas.  The recipe is simple, delicious and sure to be a crowd pleaser.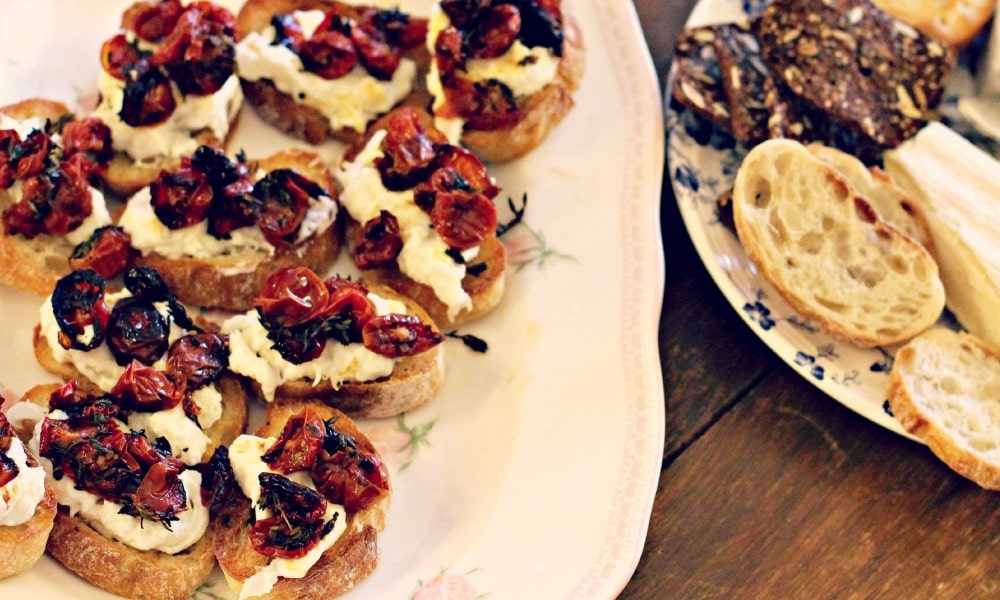 Janine's Roasted Tomato & Thyme Burrata Crostini
1 baguette sliced into 1/4 to 3/8 inch slices  1/2 C olive oil  kosher salt fresh ground pepper 1 container cherry tomatoes burrata cheese  1/2 bunch thyme  
1. Lay cherry tomatoes on a baking sheet and toss with a little olive oil,  thyme leaves, and salt and pepper to taste. Place baking sheet in the oven at 250° F for 3 1/2- 4 hours.  You can do this a day or two ahead of time if you want, just wait for the roasted tomatoes to cool completely before storing them in an airtight container in your refrigerator.
2.  Brush baguette slices with olive oil and season with salt and pepper.  Place on baking sheets and broil for 1-3 minutes until bread begins to brown.  You can also do this step ahead of time, just allow bread to cool to room temperature before storing in an airtight container.
3.  To assemble, spread burrata cheese on each crostini and top with roasted thyme tomatoes.  Save whatever bread slices you don't use in an air tight container for another time.
4. Enjoy!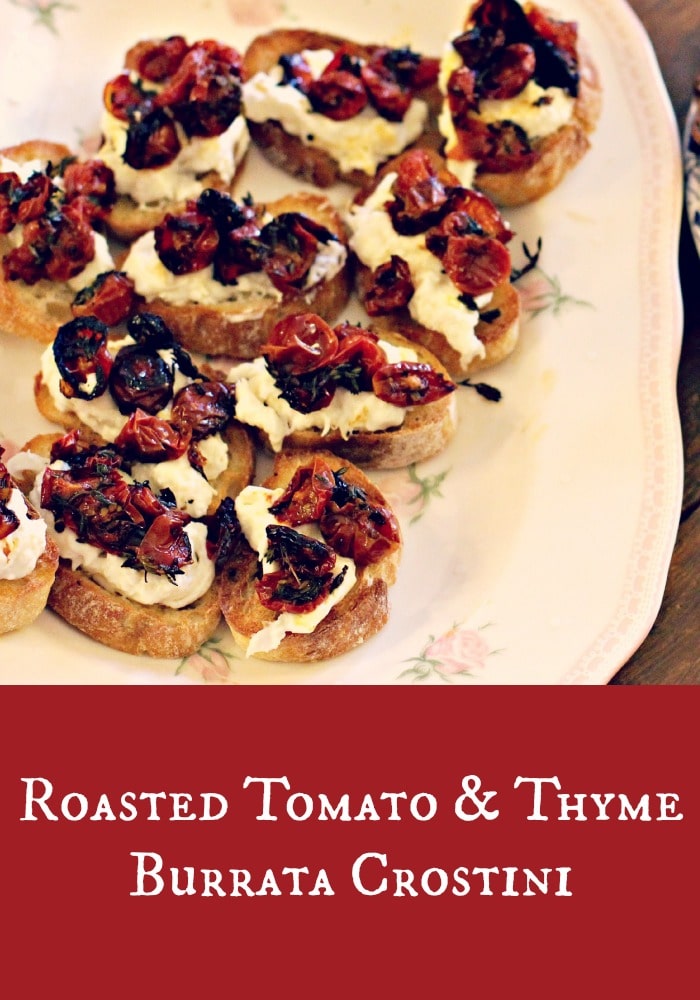 If you makeRoasted Tomato & Thyme Burrata Crostini please share on instagram using hashtag #rainbowdelicious  and tag me at @rainbowdelicious , I'd love to see what you are up to in your kitchen!
Some links on this site are affiliate links and I may earn a small commission at no cost to you. Thank you!
(Visited 1,178 time, 1 visit today)