This weeks meal plan includes five delicious healthy dinner recipes that I hope you enjoy! A creamy spinach lasagna, blackberry prosciutto pizza, beet avocado tangerine salad, salmon and asparagus, and crockpot stuffed bell peppers. Click here for this week's healthy dinner recipes grocery list.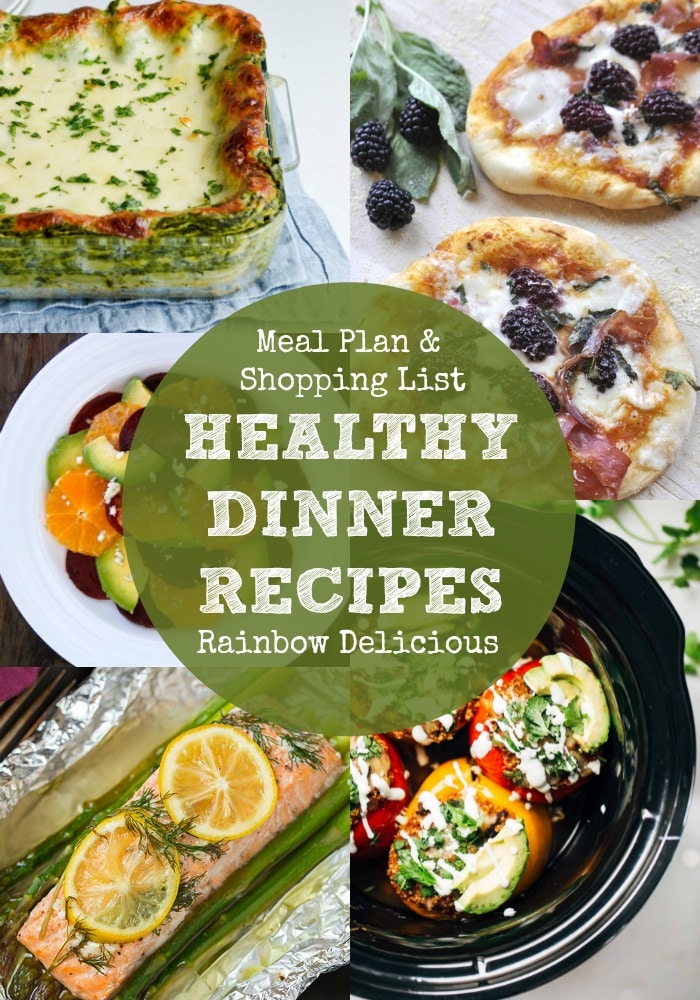 Healthy Dinner Recipes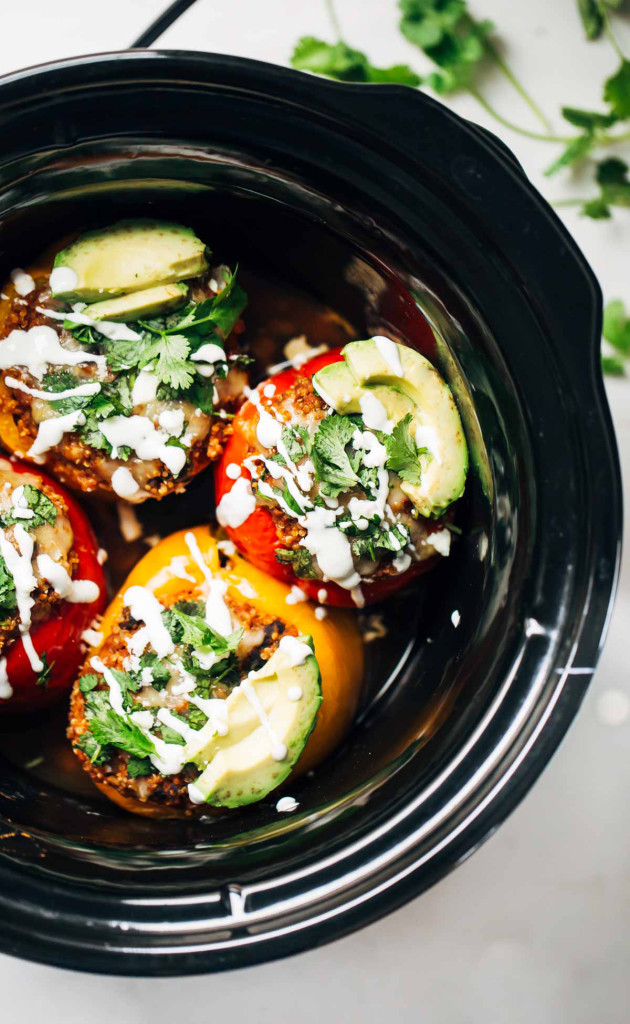 Quinoa Black Bean Crockpot Stuffed Peppers from Pinch of Yum
Prep Time: 15 minutes Cook Time: 3-6 hours Total Time: 3-6 hours 15 minutes
Ingredients: bell peppers, quinoa, black beans, refried beans, enchilada sauce, cumin, chili powder, onion powder, garlic salt, pepperjack cheese, cilantro, avocado, sour cream.
These stuffed peppers are so easy, are filling and have great flavor! I used cheddar instead of pepperjack (for the kids) and topped with the suggested cilantro, avocado an sour cream. My husband and I really enjoyed these and the kids tolerated them, as in, they ate their required portions in order to get dessert.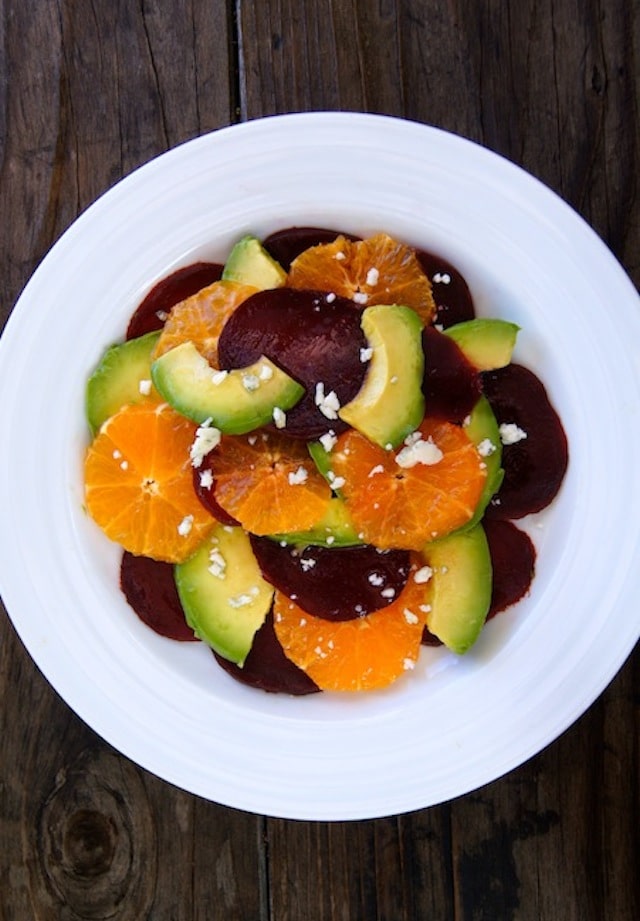 Avocado, Beet and Tangerine Salad from Cooking on the Weekends
Prep Time:  15 minutes (plus roasting time for beets, if needed) Total Time: 15 minutes
Ingredients: roasted beets, avocado, tangerine, Roquefort cheese
Beets, avocado and citrus go amazingly well together! When I fixed this salad I was not in the mood for Roquefort cheese so I omitted and instead added a fruity balsamic. You can buy pre-cooked beets to make things really easy or roast them on your own. I roasted them in foil in the oven at 400 degrees with a little olive oil, salt and pepper for about 45 minutes and they were perfection. This makes a great side salad or light lunch.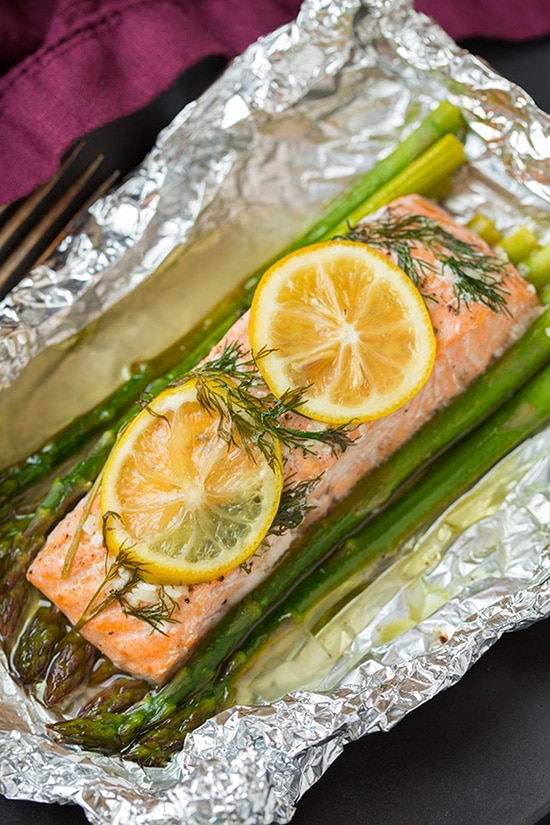 Salmon and Asparagus in Foil from Cooking Classy
Prep Time: 10 minutes Cook Time: 20 minutes Total Time: 30 minutes
Ingredients: salmon, asparagus, olive oil, garlic, salt and black pepper, lemon, fresh dill.
If you like salmon then this is an easy, mess-free way to make it! I love that no dishes had to get dirty in the creation of this dish and how healthy it tasted. I don't make fish too often but enjoyed this simple recipe.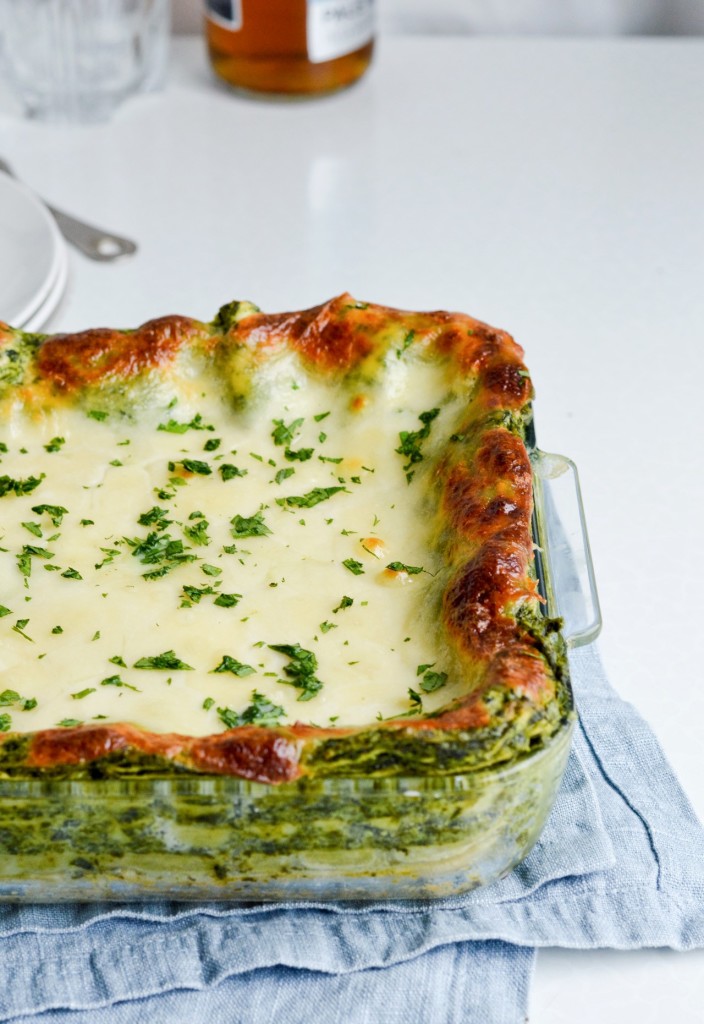 Easy Creamed Spinach Lasagna from Mitzy at Home
Prep Time: 20 minutes Cook Time: 45 minutes Total Time: 1 hour 5 minutes
Ingredients: olive oil (or sunflower oil), flour, frozen spinach, garlic powder, sour cream, whole milk, sea salt, unsalted butter, nutmeg, lasagna sheets, mozzarella cheese, chopped parsley.
This lasagna majorly exceeded my expectations, it was so delicious! My kids even loved it! It wasn't too difficult to put together, although I used fresh spinach instead of frozen which took some extra time to saute. I imagine this dish freezes well, you could try making a double batch and freezing one for another night.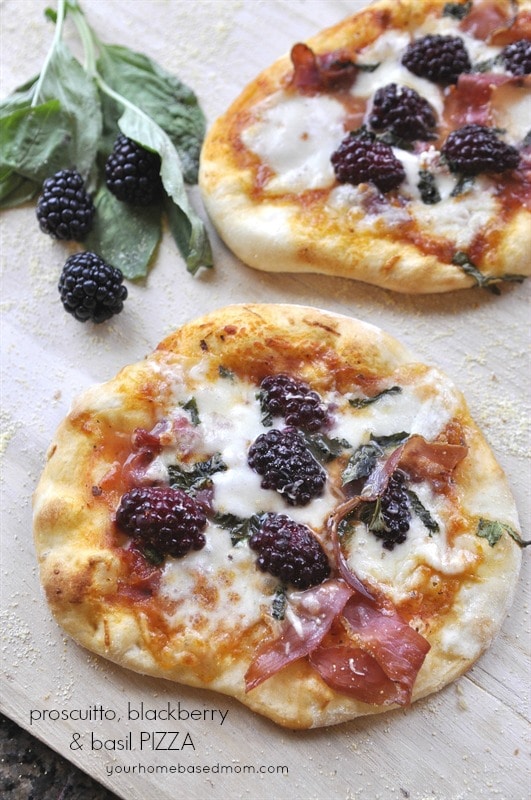 Prosciutto, Blackberry and Basil Pizza from Your Home Based Mom
Prep Time: 15 minutes Cook Time: 15 minutes Total Time: 30 minutes
Ingredients: pizza dough, pizza sauce, prosciutto, blackberries, basil, mozzarella, parmesan, olive oil, garlic, cornmeal.

This pizza is easy to throw together (particularly if you use pre-made pizza dough and sauce) and is unique and fresh.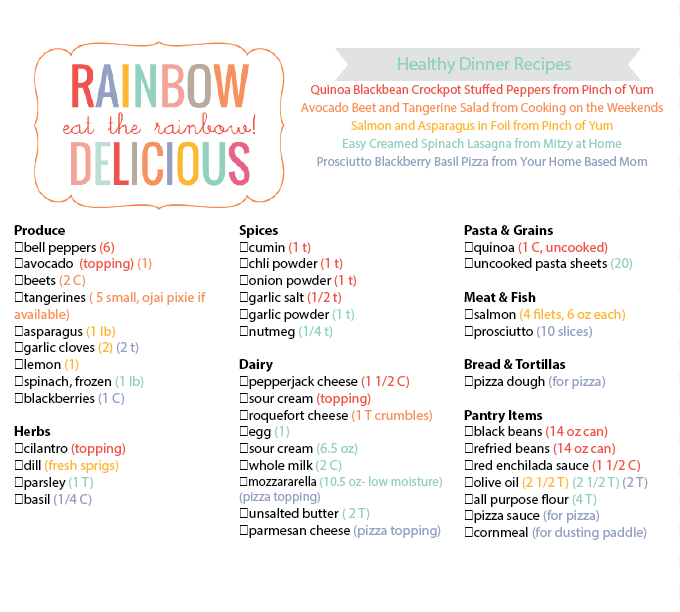 If you make any  of the healthy dinner recipes from this week's Rainbow Delicious meal plan please share on instagram using hashtag #rainbowdelicious and tag me @rainbowdelicious, I'd love to see what you are up to in your kitchen!
(Visited 1,946 time, 1 visit today)