This week's Fall menu ideas meal plan has some of my very favorite Fall recipes: black bean and lentil chili, butternut squash and sage pizza, butternut squash and bacon quiche, avocado citrus salad, and and apple cranberry salad.
I hope you all had an enjoyable Thanksgiving! My holiday weekend was filled with family, great food and service so I can't complain.  I've always wanted to help serve dinner on Thanksgiving at a shelter or church but have never done it until this year… we decided to do our family Thanksgiving dinner on Friday and therefore my sister, step-mother in law and I were able to serve Thanksgiving dinner at a local church for anyone in the area who could use it (I think around 16o people came).  It was such a wonderful event where local churches joined together to provide food, entertainment and an experience of love for those in need. The dinner took place at a church but ended up having a restaurant feel and when families or individuals came they were guided to a table with placemats decorated by children and a nicely set up table. As servers we took drink orders (lemonade, water or sparkling cider) and then took their salad and Thanksgiving dinner orders (they picked their salad dressing and then decided on ham, turkey, gravy, stuffing, cranberry, etc) After they were finished eating we brought them their pick of dessert and then they were able to stay and enjoy the live music for entertainment and the kids could get their faces painted and color in the kid's corner.  I was really impressed that the event wasn't just about the food, but about giving the guests a wonderful holiday experience.  I was able to chat with some of the people that came and they told me it was just what they needed.  I think I'd like to participate again next year if I can.

On Friday I hosted Thanksgiving dinner at my house with some of my husband's family and my sister.  My sister in law Meg did most of the heavy lifting by cooking the turkey, gravy, cranberry sauce and stuffing but a lot of us pitched in and it turned out delicious! I had fun setting the table and I made green beans, this salad (included in this week's meal plan), a persimmon and brie appetizer, mashed potatoes and vanilla ice cream.  We all ate too much but it was worth it. Friday we also chopped down our Christmas tree! I just love this time of year, don't you? Enjoy this week's fall menu ideas meal plan.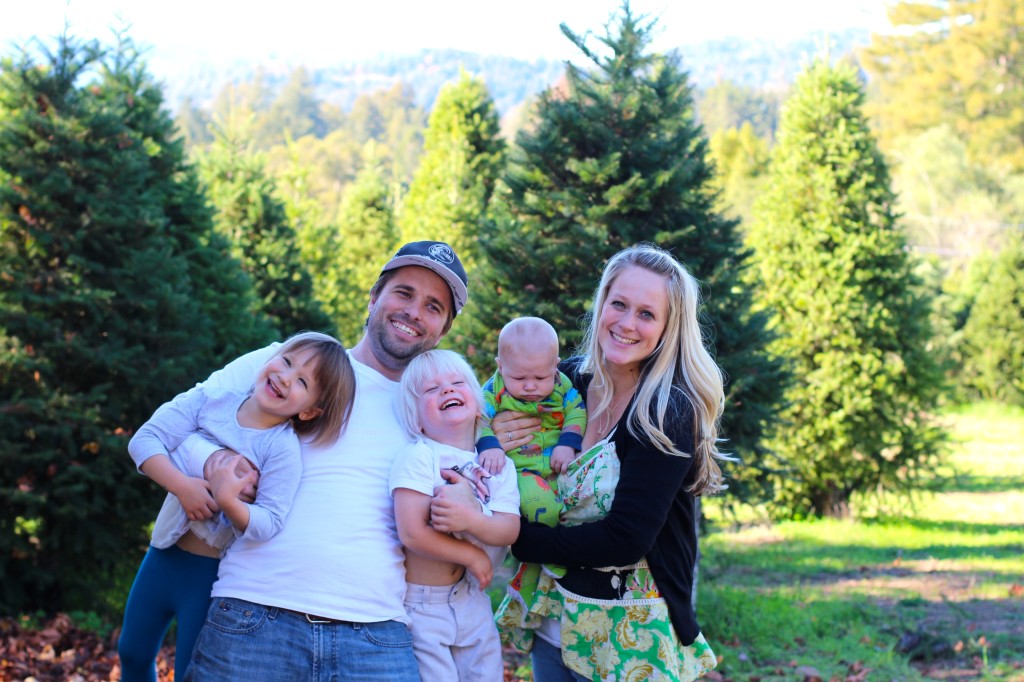 Once you run out of leftovers this week I've got you covered with this meal plan featuring a butternut squash quiche and pizza, two delicious and simple salads and a hearty black bean and lentil chili. I hope you enjoy it as much as we did, click here for this week's shopping list. 

Fall Menu Ideas Meal Plan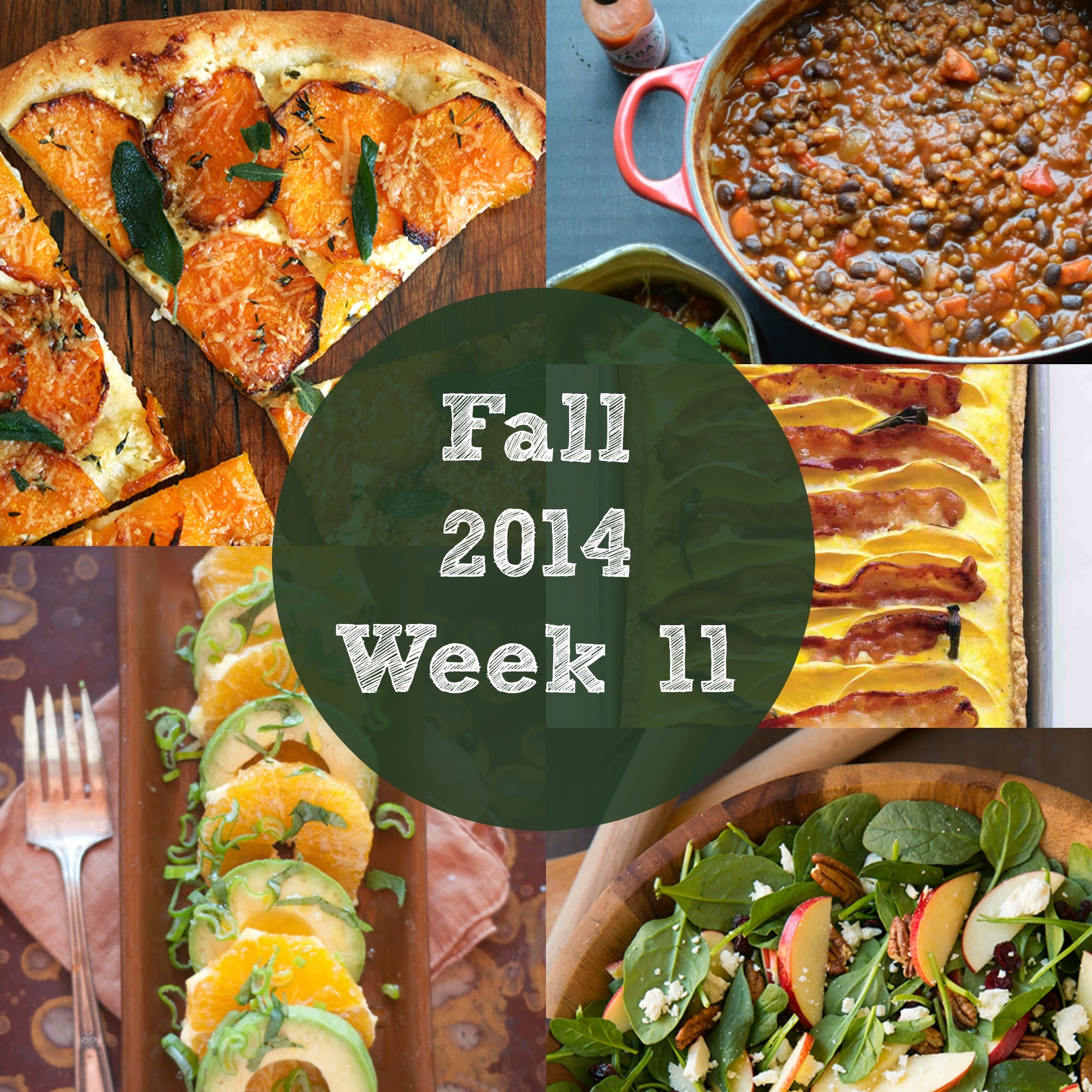 Fall Menu Ideas Meal Plan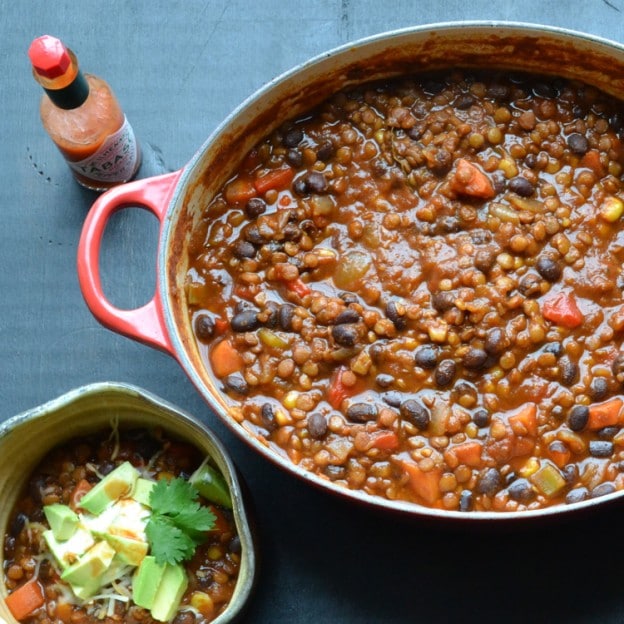 Black Bean and Lentil Chili from Taste Love and Nourish
Prep Time: 15 minutes Cook Time: 1 hours Total Time: 1 hour 15 minutes
Ingredients: olive oil, sweet onion, celery, carrots, garlic, chili powder, paprika, chipotle chili powder, allspice, cumin, bay leaf, vegetable broth, lentils, tomato sauce black beans, sweet corn kernels, roasted red peppers, tabasco, honey, salt and pepper. Toppings: tobasco, sour cream, avocado, cheddar, cheese, lime, cilantro.
My family and I all really loved this chili although I didn't add all of the ingredients listed…  I left out celery (and added extra carrots) and roasted red peppers.  I left those out because I thought I had them but realized once I already did my shopping that I was wrong.  For toppings we used sour cream, cilantro and avocado. I really love the addition of sweet corn in this dish and will be making this next time I enter a chili cook-off.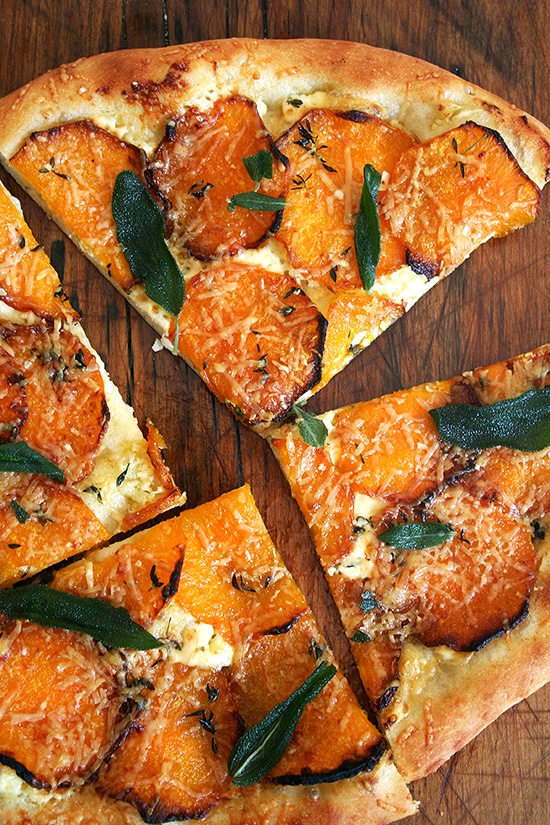 Butternut Squash and Crispy Sage Pizza from Alexandra Cooks
Prep Time: 20 minutes Cook Time: 25 minutes Total Time: 45 minutes
Ingredients: pizza dough, butternut squash, olive oil, salt, garlic, ricotta cheese, sprigs thyme, parmigiano reggiano, sage, canola oil.
This pizza is incredibly delicious and really easy if you simplify it by using premade pizza dough and store-bought ricotta which is what I did.  I also used my mandolin for slicing up the squash and I just love the way this pizza turns out, such a beautiful presentation!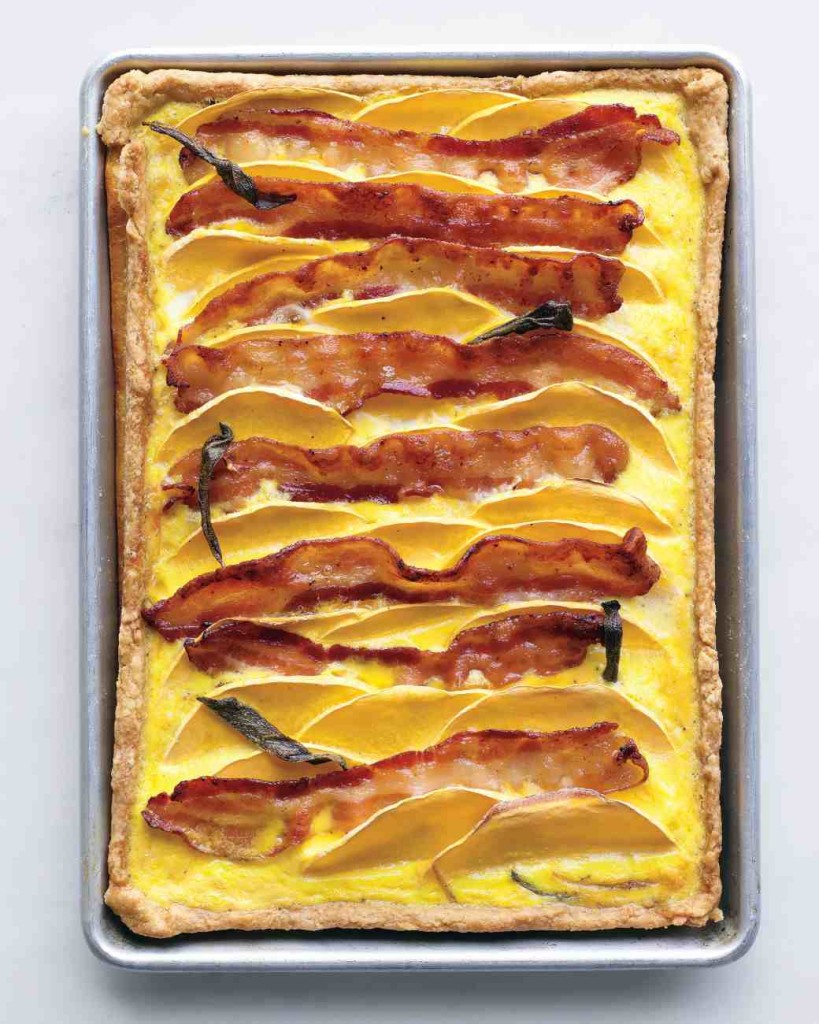 Butternut Squash and Bacon Quiche from Martha Stewart
Prep Time: 35 minutes Cook Time: 1 hour 40 minutes Total Time: 2 hours 15 minutes
Ingredients: pie dough, bacon, yellow onion, salt and pepper, butternut squash, eggs, whole milk, heavy cream, sage.
This quiche recipe is featured in the butternut squash recipe round-up. I loved loved loved this quiche and so did my family who was in town for Thanksgiving.  We made it for breakfast one morning and we scarfed it down like I couldn't believe.  I adapted the recipe a bit by baking the bacon and then crumbling it, using a mandolin to slice the squash and practically caramelizing the onions.  I also added a little parmesan cheese on the top and was unfortunately out of sage.  I also was in a hurry and did not pre bake my pie crust (I use the one from Trader Joe's and normally don't prebake it anyways and prefer it that way). This is my new favorite quiche and I can't wait to make it again soon.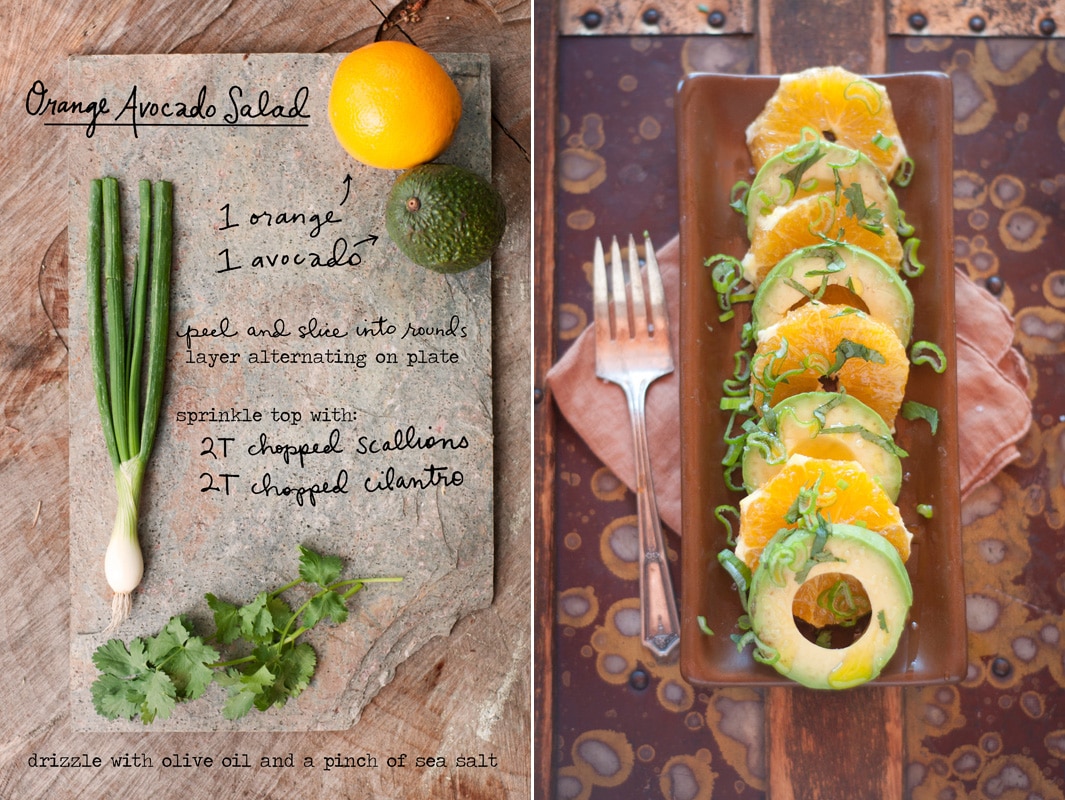 Orange and Avocado Salad from The Forest Feast
Prep Time: 35 minutes Cook Time: 1 hour 40 minutes Total Time: 2 hours 15 minutes
Ingredients: pie dough, bacon, yellow onion, salt and pepper, butternut squash, eggs, whole milk, heavy cream, sage.
Sometimes simple is best don't you think? I love that this recipe is so simple but tastes amazing, that's how all of the recipe's from The Forest Feast seem to be… Erin's cookbook is so beautiful and is on my Christmas wishlist.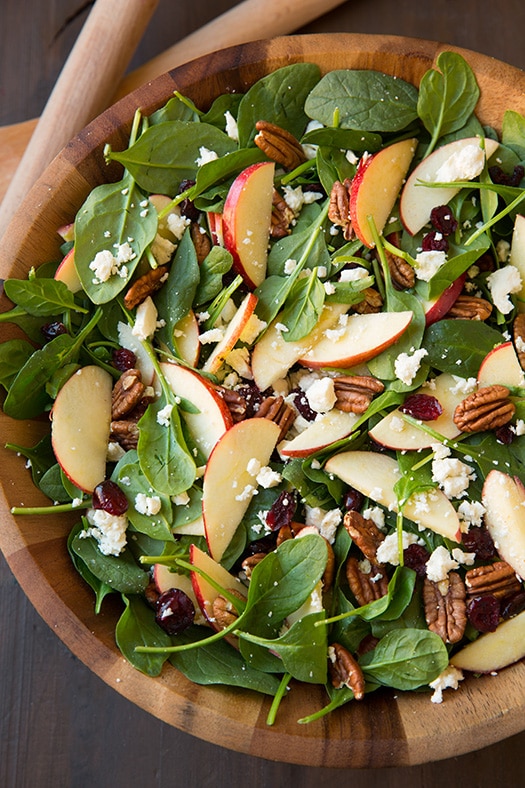 Apple Cranberry Pecan Feta Spinach Salad from Cooking Classy
Prep Time: 15 minutes  Total Time: 15 minutes
Ingredients: baby spinach, gala apples, pecans, feta, dried cranberries, bacon, red onion, olive oil, apple cider vinegar, maple syrup, dijon, salt, fresh pepper.
I decided not to add the bacon to this salad but I'm certain it would taste great with bacon too… because can you ever have too much bacon? I honestly don't know if you can.  The salad still tasted wonderful without the bacon, and the red onion (I simply forgot to add that too!).  Oh, and I also used candied pecans, yum!
When you make any recipes from this week's Fall Menu Ideas Meal Plan please share on instagram using hashtag #rainbowdelicious & and tag me at @rainbowdelicious , I'd love to see what you are up to in your kitchen! 
(Visited 8,856 time, 1 visit today)