I hope you enjoy this delicious week of easy summer dinners! Recipes include a watermelon peach caprese, tomato + lemon + ricotta pasta, lemon pesto pasta, a veggie chickpea salad and a blueberry ricotta flatbread pizza.
I made most of the recipes for this week's meal plan two weeks ago; I tried to get ahead in trying out recipes for meal plan mondays. I'm not ahead of schedule any more though (big fail!) because this last week I didn't make any new recipes. I was sick the entire week surviving solely on chicken noodle soup, popsicles and cough drops. My children and I watched wayyy to much TV and I think I can count the amount of times I left my house on one hand. One bonus was while home in bed I read the entire book, The Life-Changing Magic of Tidying Up: The Japanese Art of Decluttering and Organizing that I mentioned a few weeks ago and I am now kind of obsessed with the konmari method of tidying up my house. I am drinking her kool-aid all the way and it tastes super refreshing. So far I've discarded and organized my clothing, papers and make-up and I seriously feel like a new woman, I love a more minimalist and calm living space. I swear I could have done my whole house by now if I wasn't also feeling sick for so much of the week. I started to feel a little bit better yesterday afternoon and was able to spend some of Father's day with my mom and dad, Rick, our kids and my little brother and sister.  Also, my father in law was visiting this week so my kids and husband were able to have some quality family time (while I had major fomo but was grateful for the rest).  I mentioned last week that we were trying to find a farm for Batman (one of the chicks we got on Easter that turned out to be a rooster) and we finally found one! A nice elderly lady and her daughter came by to pick up batman this week to live on their farm.  They loved batman, including his name, and were excited to keep him.  Maverick is not as sad as I expected and keeps saying "It's okay, now I can get another chicken, that is not a rooster, and name him Batman." Such resilience.That about sums up my week, how was yours? Anything exciting happen? I hope you are staying healthy because it is the first week of summer and we should all be active and enjoying life! Enjoy these five easy summer dinners and click here for this week's color coded shopping list.

Easy Summer Dinners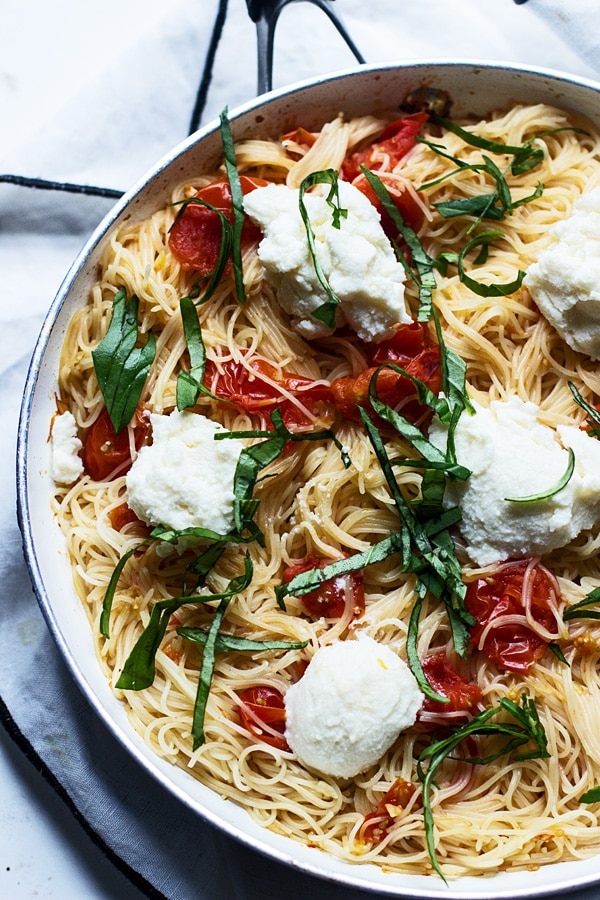 Burst Cherry Tomato with Lemon and Ricotta from Cooking for Keeps
Prep Time: 5 minutes Cook Time: 25 minutes Total Time: 30 minutes
Ingredients: angel hair, olive oil, cherry tomatoes, garlic cloves, dry sherry, lemon zest, lemon juice, salt, basil, ricotta
This pasta was quick and easy and reminded me how much I love angel hair pasta. The hint of lemon and the creamy ricotta all combine with the homemade tomato sauce beautifully. This is perfect for weeknight dinners or lunches all summer long. Hooray for easy summer dinners!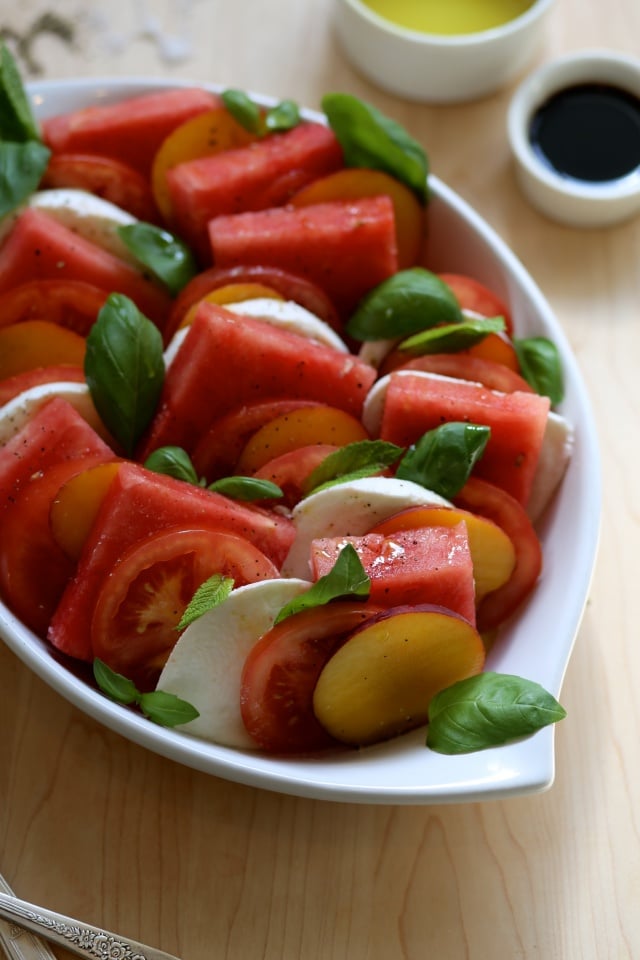 Watermelon and Peach Caprese from Joy the Baker
Prep Time: 15 minutes Total Time: 15 minutes
Ingredients:watermelon, fresh tomatoes, peach, fresh buffalo mozzarella, basil, mint leaves, olive oil, balsamic vinegar, salt and pepper.
Talk about a unique caprese! My friend Kasey and I were a little skeptical about the flavor combination going into this salad, but we both ended up loving it and ate the whole thing between the two of us (mostly me, I admit it). I have made a peach caprese before but the addition of watermelon and mint really takes it up a notch. This salad is perfect for picnics and outdoor summer meals.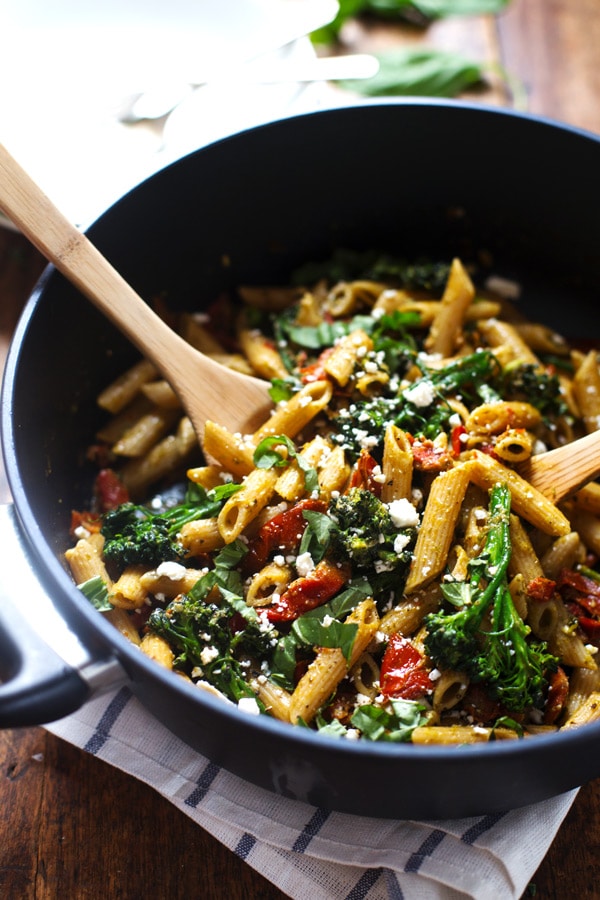 Lemon Pesto Pasta from Pinch of Yum
Prep Time: 5 minutes Cook Time: 15 minutes Total Time: 20 minutes
Ingredients: whole wheat penne, baby broccoli, roasted tomatoes, minced garlic, pesto, feta, lemon, basil.
It took me more than 20 minutes to make this pasta because instead of using store-bought roasted tomatoes, I roasted some myself by drizzling olive oil on a bunch of heirloom cherry tomatoes with salt and pepper and slow roasting at 250 until they were all shriveled and delicious-tasting. I don't remember exactly how long it took, maybe a couple of hours. Store-bought ones are great I'm sure, too, but I had far too many tomatoes in my fridge that were starting to fade that I didn't want to waste. I also added olive tapenade to this pasta which added a little extra saltiness.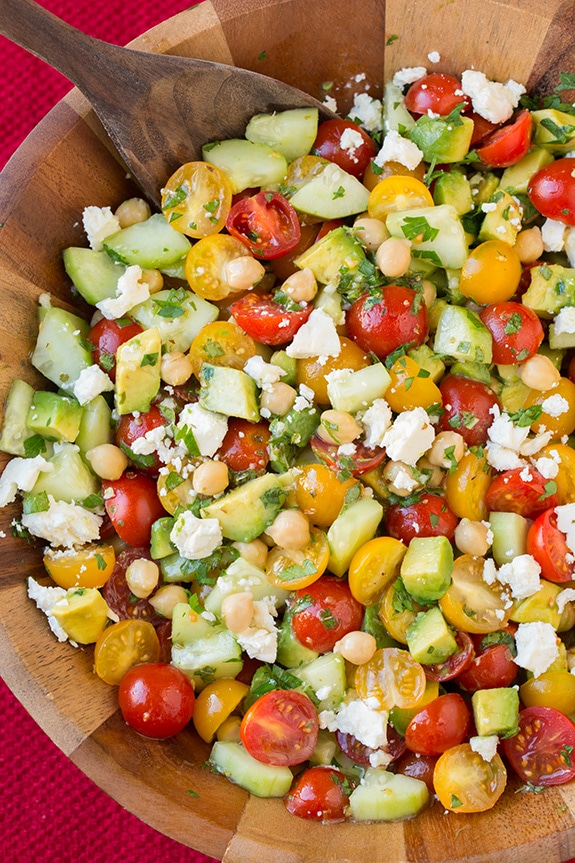 Tomato, Avocado, Cucumber and Chickpea Salad with Feta and Greek Lemon Dressing from Cooking Classy
Prep Time: 10 minutes  Total Time: 10 minutes
Ingredients: cherry tomatoes, chickpeas, cucumbers, avocados, parsley, feta, olive oil, lemon juice, dijon, garlic, salt, fresh basil, oregano.
This salad is great as a side recipe with dinner but it is also great as a lunch salad on it's own. Rick, my sister Jessica and I all really liked the freshness of this dish and will definitely be making it again.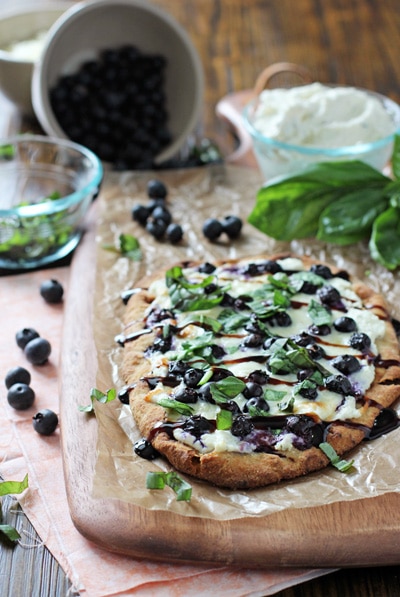 Blueberry Basil Ricotta Flatbreads from Cookie Monster Cooking
Prep Time: 10 minutes Cook Time: 10 minutes Total Time: 20 minutes
Ingredients: whole wheat naan, olive oil, ricotta, salt, pepper, dried basil, mozzarella, fresh blueberries, arugula or baby spinach, basil leaves, balsamic glaze.
Talk about a quick dinner that still looked impressive to my kids. They thought the blueberry pizza was pretty fab and so did I. I didn't add arugula or baby spinach, just basil, and I made my own balsamic glaze by reducing balsamic vinegar over medium heat for about ten minutes until it was nice and syrupy. We ate this as dinner but I think it would be great to have these ingredients on hand to make for lunch occasionally to0.
If you make any of these easy summer dinners from Rainbow Delicious meal plans or other posts please share on instagram using hashtag #rainbowdelicious and tag me @rainbowdelicious, I'd love to see what you are up to in your kitchen! 
(Visited 4,656 time, 1 visit today)