This post is sponsored sponsored by Revolution Foods
I love cooking and feeding my family healthy, nutritious meals but if I'm honest I also admit that staying on top of family dinners can sometimes feel like a thankless, never-ending and hard task for me as a parent. Can you relate?  I am always trying to new products, tips and tricks to stay on top of feeding my family and with back to school season in full swing I'd like too share with you my top 10 back to school meal planning tips: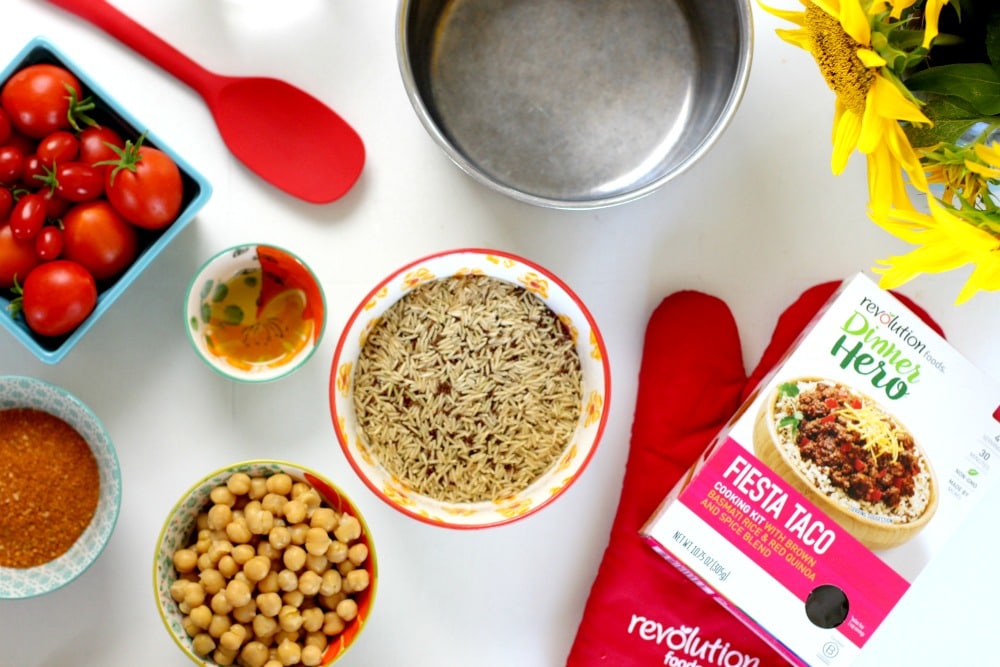 Top 10 Back to School Meal Planning Tips:
Include your family in meal planning Ask them what healthy flavors and foods they enjoy and incorporate them into your meal planning. This ideally can help to limit complaining and give the whole family more ownership over meal times.
Set aside time to meal plan. For me this is on the weekend. Decide ahead of time what you want to eat for the upcoming week and be realistic with sports, meetings, activities.
Check the weather. This might seem like a strange tip but at least for me certain weather makes me want to enjoy or avoid certain foods!
Make a grocery shopping list with specifics and try to stick to it to avoid food waste and over spending.
Pick a day for grocery shopping I find that having a consistent day that you go grocery shopping each week helps keep a good rhythm to meal planning. Make sure your grocery shopping list is completed before your grocery shopping day 😉
Stick to Meals that are 30 minutes or less Pick quick dinner ideas! Sometimes we are "time optimists" and over-estimate how much time we are going to want to spend cooking each night. On busy weeknights I try to limit my cooking time to 30 minutes or less.
Create healthy dishes with whole ingredients. When I give my kids meals that are healthy and filling they go to bed easier without wanting a before dinner snack and they are more emotionally stable in the evenings.
Keep it Simple! Sometimes we feel like we have to do every single thing from scratch but it is okay to use helpful products that simplify meal times. My favorite new meal planning staple is Revolution Foods Dinner Hero Dinner Kits. They have amazing kid friendly flavors, easy instructions on the box and these skillet meals are ready in 30 minutes or less.
Make Dinner Prep Fun by turning dinner prep into a ritual that works for you. Instead of suffering through it like a chore try to make it enjoyable by listening to your favorite music or podcast. Have a plan for your kids to work on their homework, play in the backyard or even help with age appropriate cooking tasks like pouring or stirring.
Plan the next day's meals the night before Every night before going to bed try to plan and go over your schedule for the following day, including what your family is going to eat for breakfast, lunch and dinner. Deciding ahead of time helps with decision fatigue during the next day so 5 pm doesn't roll around without an answer for "what are we going to eat for dinner?"
Meal planning can be tough business and getting meals on the table for your family after everyone has been working hard all day is a big job so I hope these back to school meal planning tips help!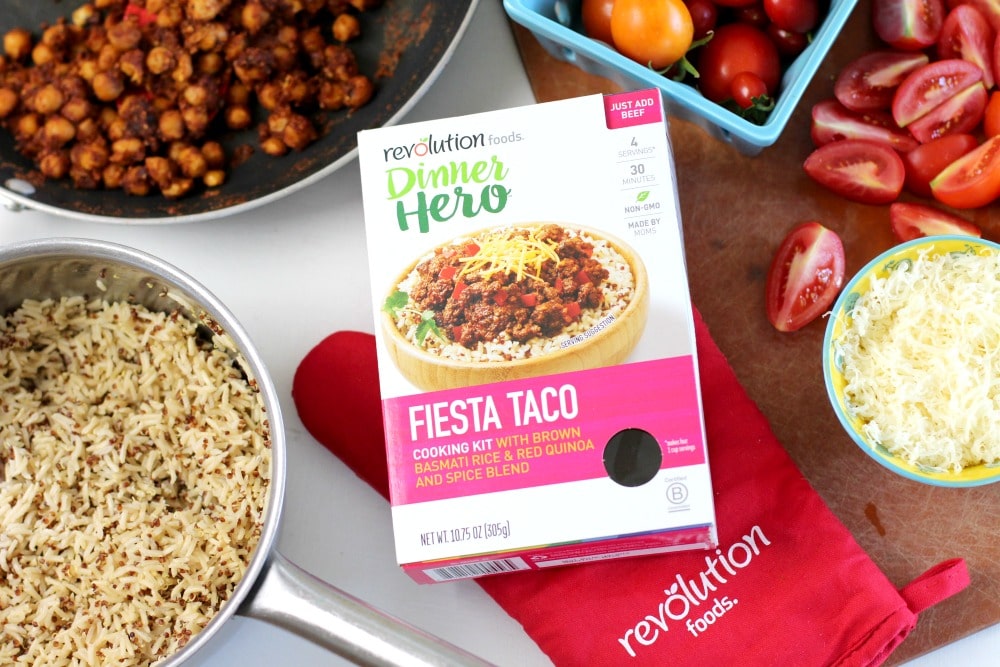 Like I mentioned in my tips, Revolution Foods Hero Dinner Kits have become a new pantry staple in my house to stay on top of meal time. The Revolution Foods dinners are kid tested and chef crafted and are the ultimate parenting hack when it comes to kicking your dinner up a notch as you dive into back to school schedules! Evenings can be busy so have something I can make in 30 minutes is a major win. There are four dinner flavors: Coconut Curry, Sesame Garlic, Smoky Tomato and Fiesta Taco, and all you have to do is add your family's favorite protein like chicken, fish, tofu, beef, or even garbanzo beans!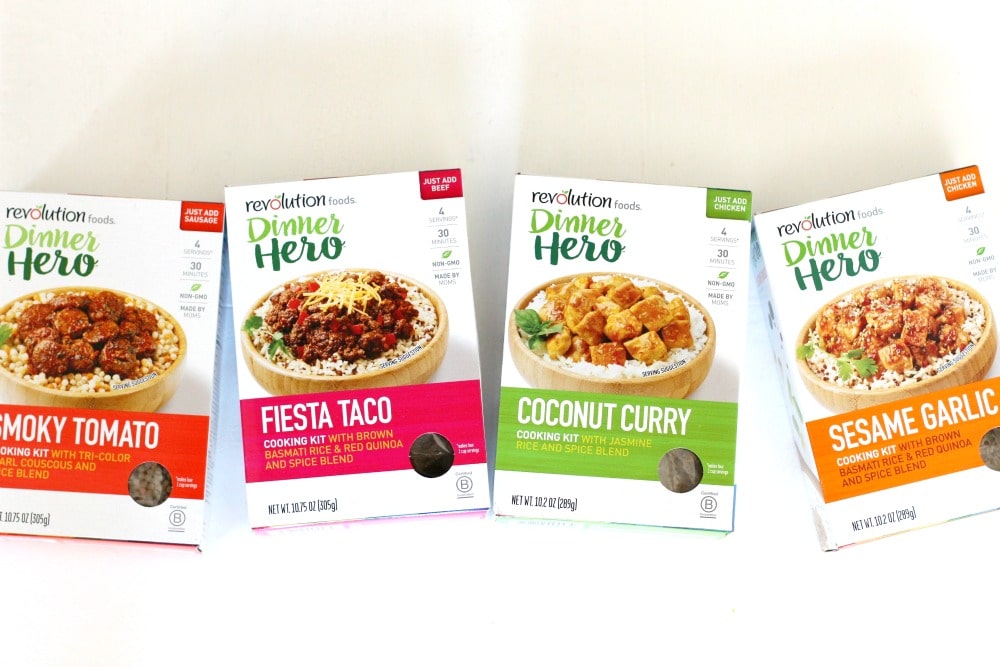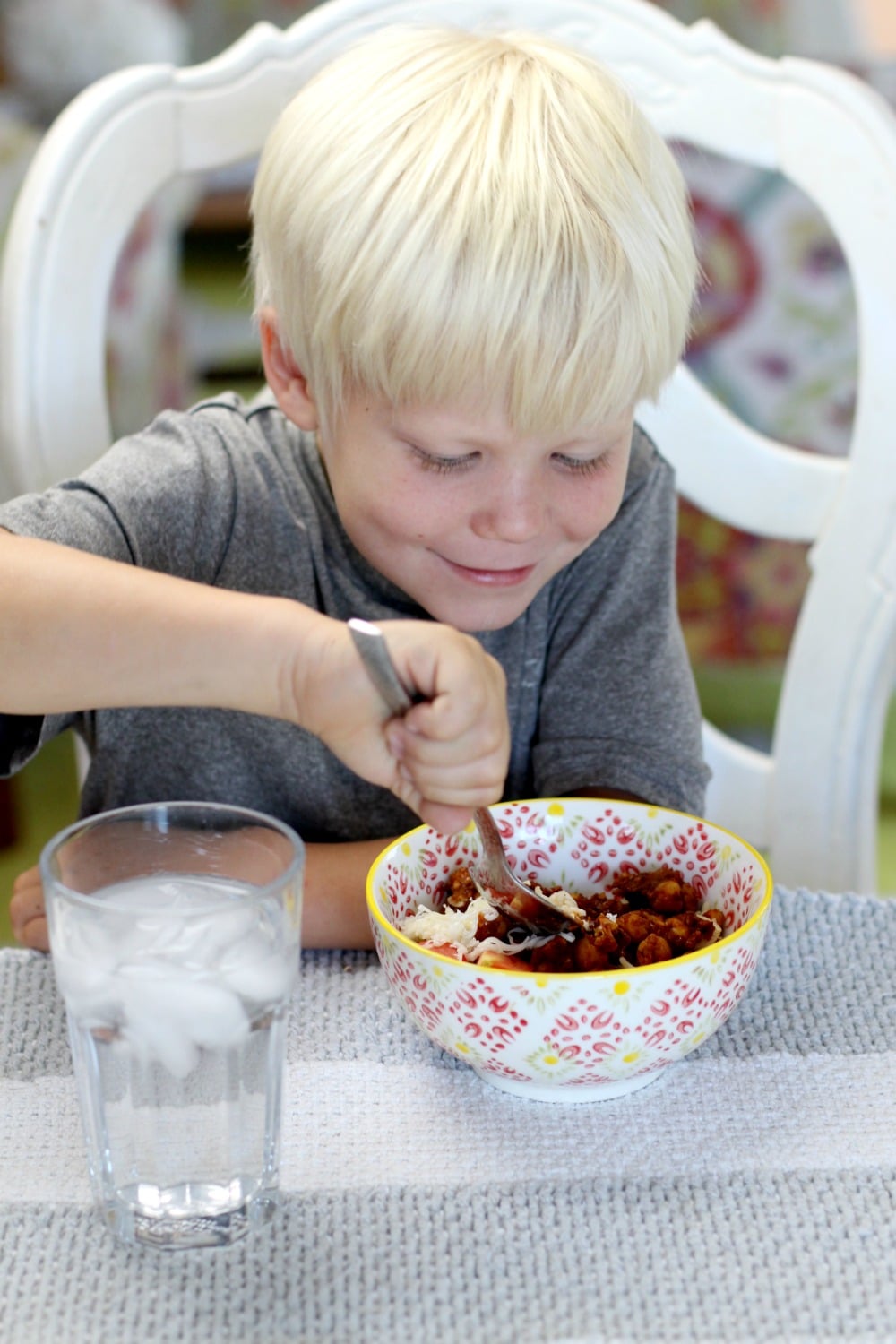 I recently tried out the Fiesta Taco Hero Kit with my family and it was a big hit. The kit comes with a brown basmati rice and red quinoa mix and a spice blend to add to your protein. I used garbanzo beans as my protein and topped the bowls with tomatoes and Monterey Jack cheese. It was so simple to make with the instructions included on the package and everything was ready in under 30 minutes. I can't recommend these kits enough for those busy weeknight meals.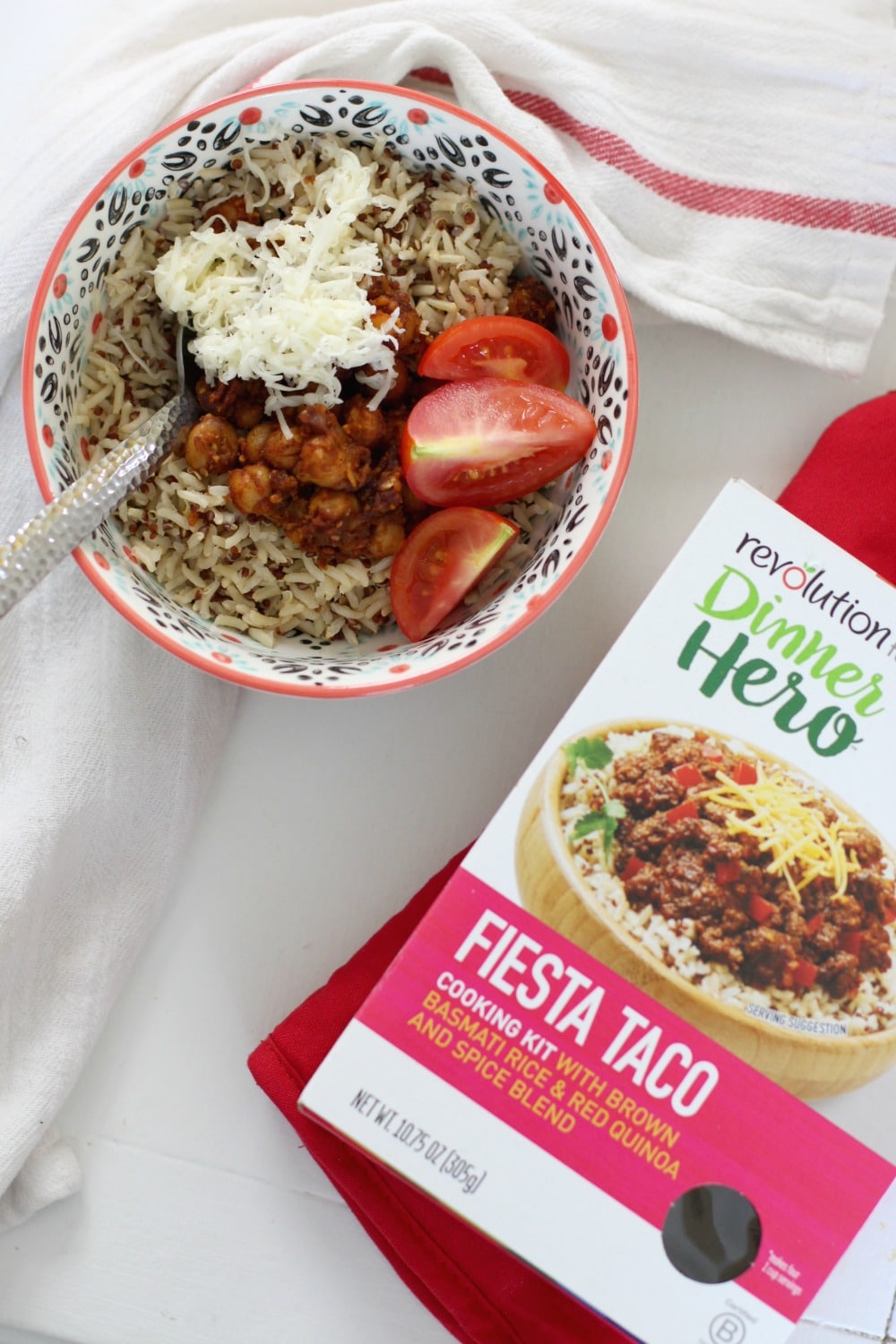 I love the Revolution Foods Dinner Hero kits, Breakfast Hero meals and lunch bundles because they are all simple parenting hacks for staying on top of feeding your kids all day. Best of luck in the giveaway and this school year and please share your back to school meal planning tips in the comments; do you have a recipe or hack that makes you a hero in your family? What are your favorite meal planning tips that get you through the back to school season and the rest of the school year?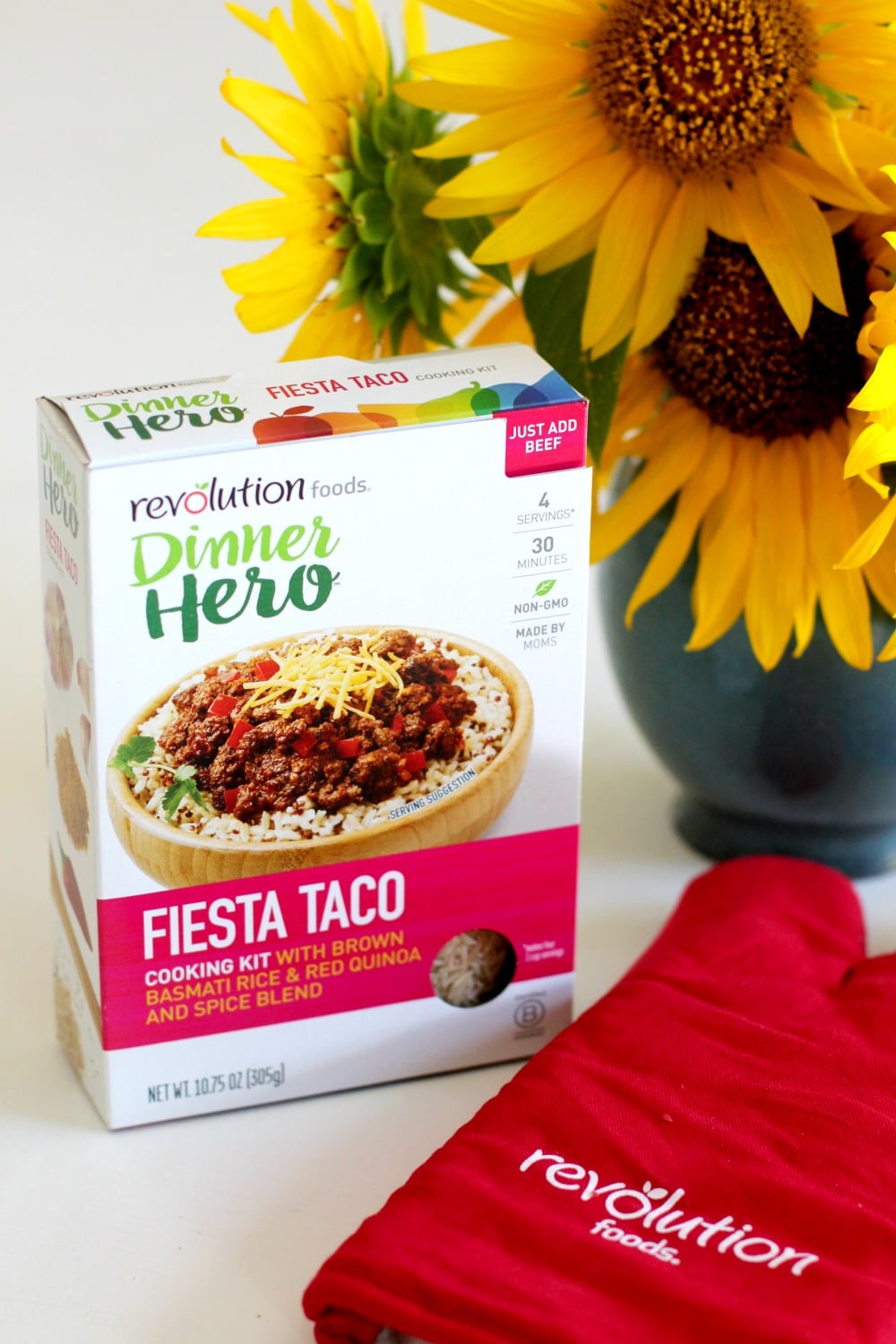 Some links on this site are affiliate links and I may earn a small commission at no cost to you. Thank you!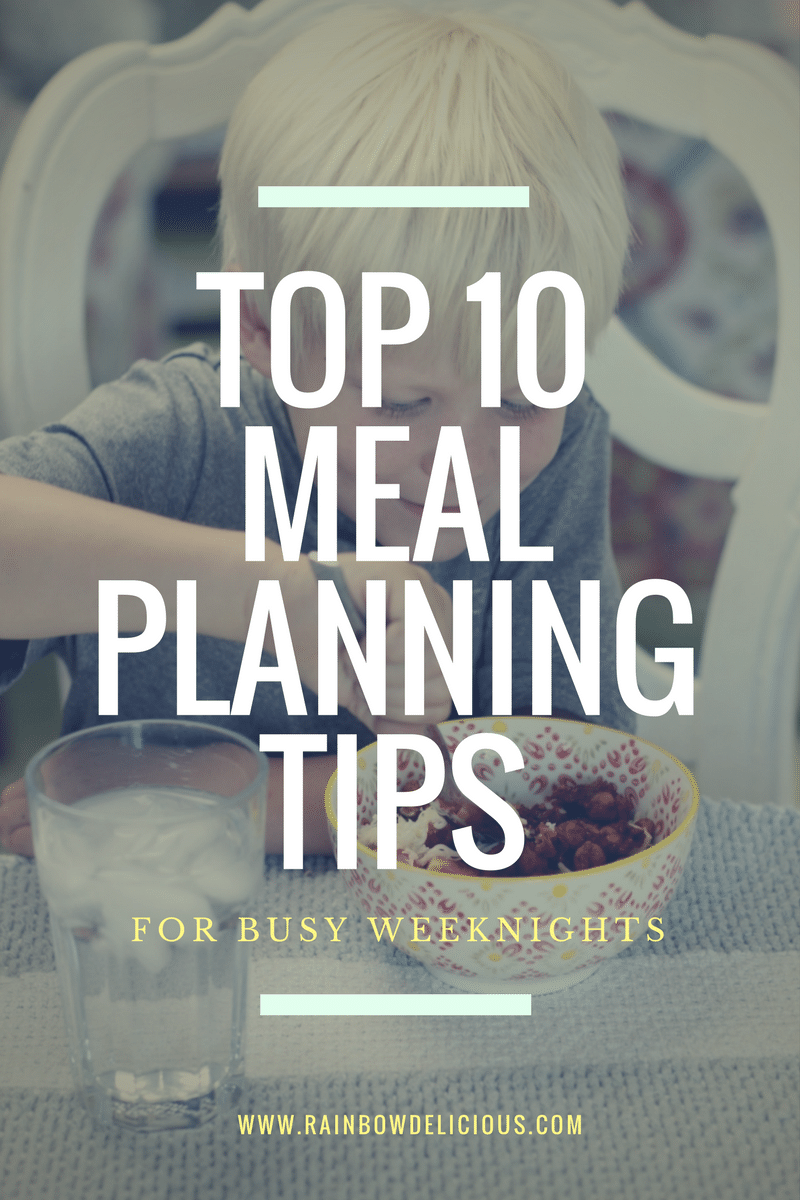 (Visited 715 time, 1 visit today)