Disclosure: This post is sponsored by ZICO Coconut Water. All opinions are my own.
This sugar-free, gluten-free pumpkin pie is a delicious guilt-free dessert the whole family will love. Perfect for holidays or as an everyday treat.  This year my family decided to try "no sugar November" and cut out refined sugar for the month. I know I feel better without sugar, and I wanted the kids to experience life without so much sugar as well. The kids have been good sports about it and while we haven't been 100% successful, we were pretty close!  I wanted to reward them with a seasonal dessert over the holidays and made this delicious coconut pumpkin pie dessert. You can make it in a round pan and serve it as a crustless pie, or you can bake it in a square pan and cut the dessert into bars. Either way it is delicious!
The ingredients list is simple. All you will need for the filling is coconut flour, eggs, baking soda, salt, pureed pumpkin, dates, pumpkin pie spice and ZICO Coconut Water. 

The filling is not overly sweet, but has enough sweetness to be kid-approved in my house. The crustless pie has a hint of coconut flavor, using a simple date & coconut water paste as the main sweetener. The coconut date paste is made by combining medjool dates with ZICO Coconut Water in a blender or food processor.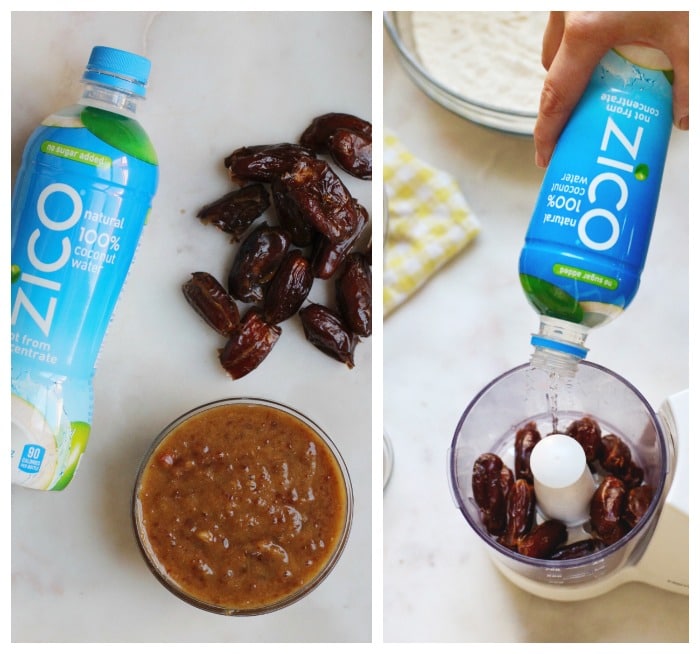 I used ZICO Coconut Water because it is 100% coconut water, not from concentrate and doesn't have any added sugar. It also adds a perfect hint of coconut flavor along with the coconut flour. I used a pie dish lined with parchment paper, but you can also just grease the dish with coconut oil.


For the topping whip up some whipped cream with a little maple syrup and cinnamon.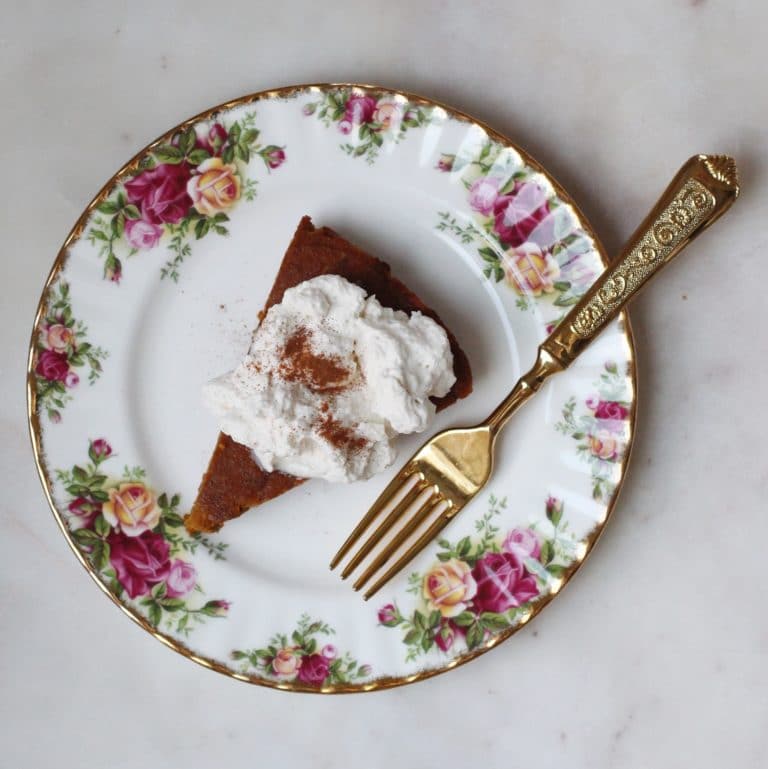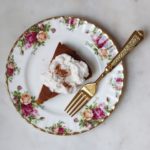 Gluten Free Sugar Free Pumpkin Pie Recipe
This delicious gluten free and sugar free pumpkin pie recipe will be a hit at your next Thanksgiving or Friendsgiving dinner.
Ingredients
Sugar Free Gluten Free Pumpkin Pie Filling
1 1/2

C

Medjool Dates

Check to make sure all pits have been removed.

15

oz

Pureed Pumpkin

make sure there is no sugar added. Use 100% pureed pumpkin.

3/4

C

Coconut Flour

1

t

Pumpkin Pie Spice

3/4

t

Baking Soda

1/4

t

Salt

2

Eggs

parchment paper or coconut oil

for lining or greasing pan
Instructions
Preheat the oven to 350ºF.

Make the date paste by combining dates and Zico Coconut Water in a blender or food processor until smooth. Measure 3/4 C of this paste and set aside.

Combine date paste with all pumpkin pie filling ingredients in large bowl and mix well.

Pour filling into a greased or parchment lined pan. You can use either a 9 X 9 baking pan or a pie dish.

Bake in preheated oven for 30-35 minutes, until the center is fully baked through and the edges are starting to brown slightly.

While the pie is baking, whip up the whipping cream, maple syrup, cinnamon and salt with an electric mixer until stiff peaks form. Set aside in the refrigerator.

Let the pie cool down to room temperature, slice, and serve with dallop of whipped cream and a sprinkle of cinnamon.
Nutrition Facts
Gluten Free Sugar Free Pumpkin Pie Recipe
Amount Per Serving (1 slice)
Calories 367
Calories from Fat 73
% Daily Value*
Fat 8.1g12%
Cholesterol 58mg19%
Sodium 653mg28%
Potassium 724mg21%
Carbohydrates 71.6g24%
Protein 7.5g15%
Calcium 78mg8%
Iron 1mg6%
* Percent Daily Values are based on a 2000 calorie diet.

Note for vegans: you can easily adapt this recipe by using a chia egg instead of an egg for the filling. A chia egg mixes 1 Tbsp chia seeds + 2.5 Tbsp water. Let sit until gel-like. In place of whipped cream you can use cashew cream or whipped coconut cream.

I hope you enjoy this sugar-free, gluten-free Fall dessert as much as my family did! Even my 3 year old scarfed it down!
Pin for Later:





(Visited 474 time, 1 visit today)